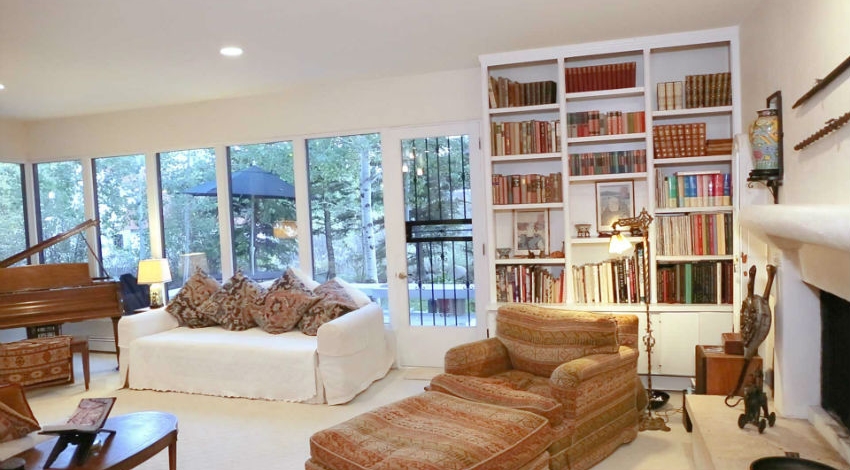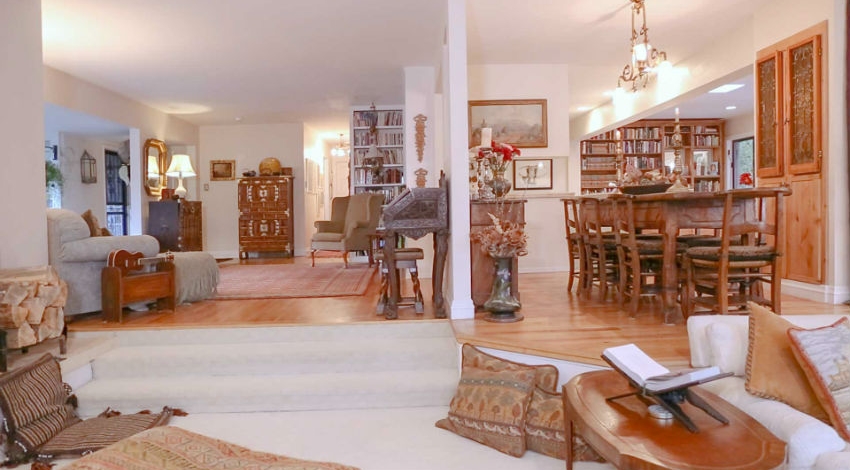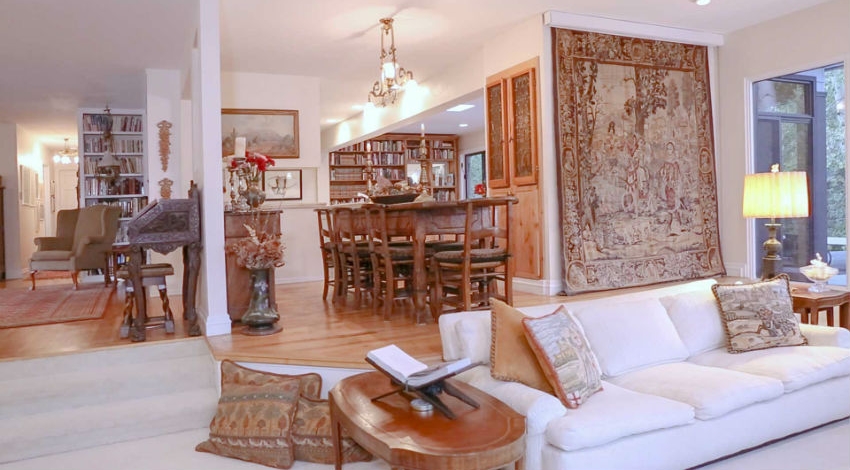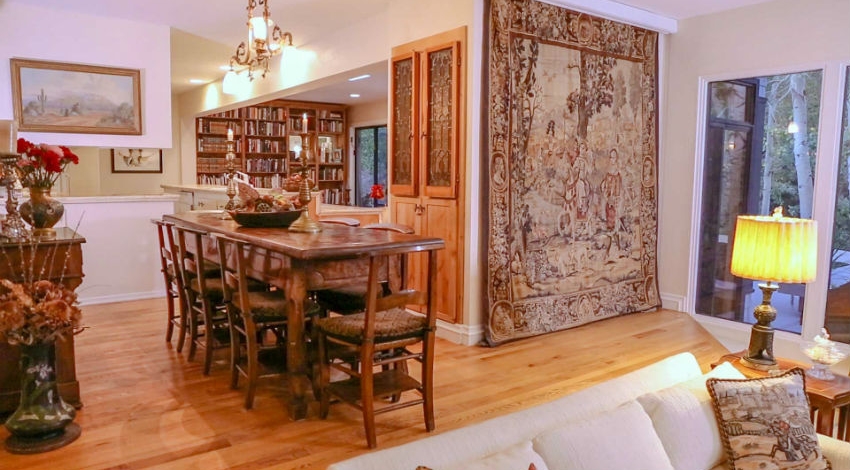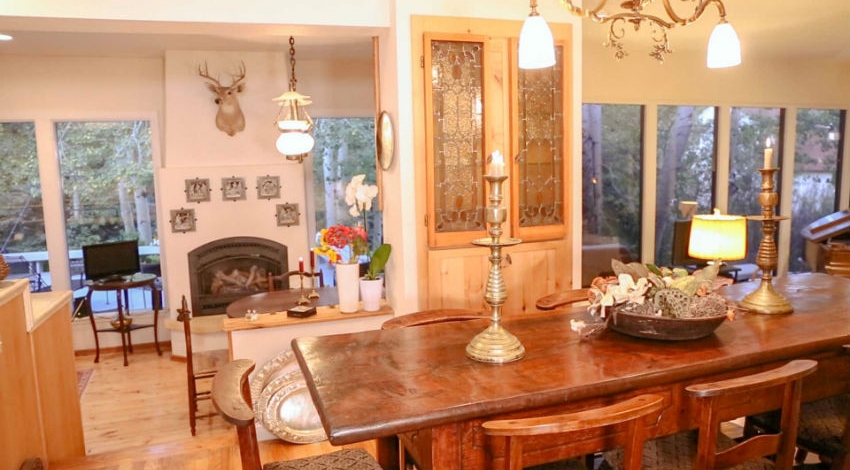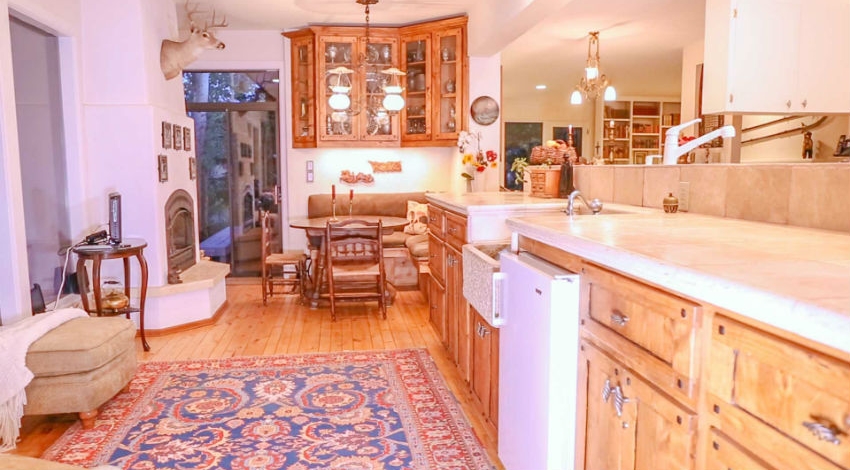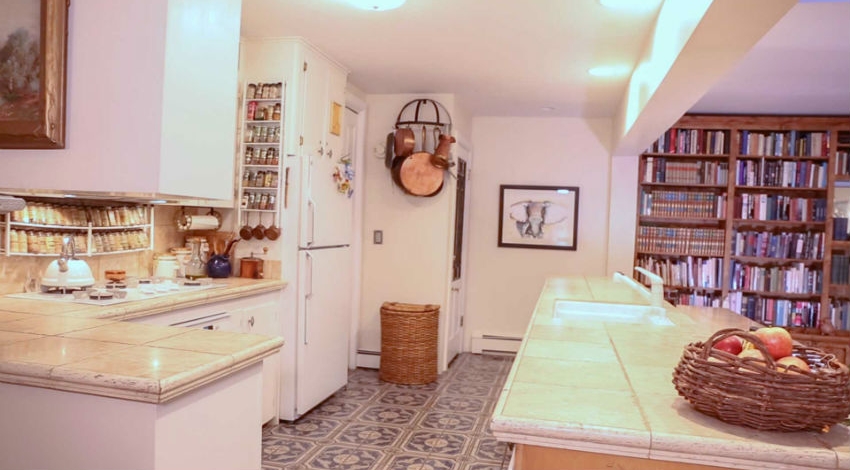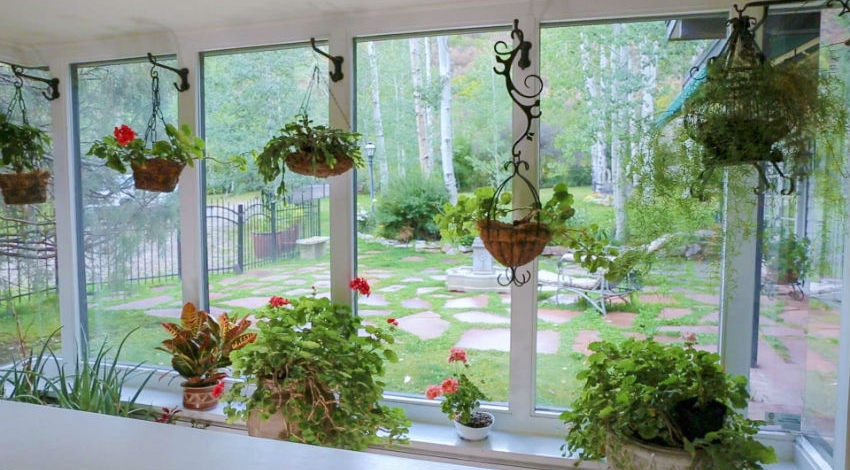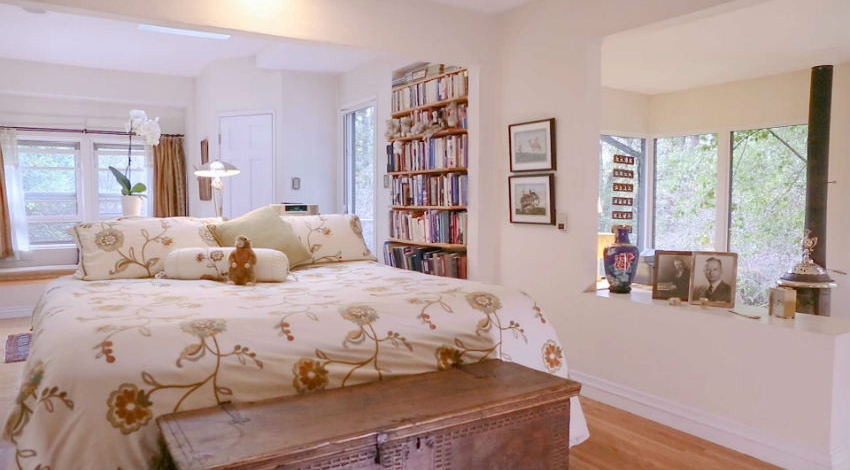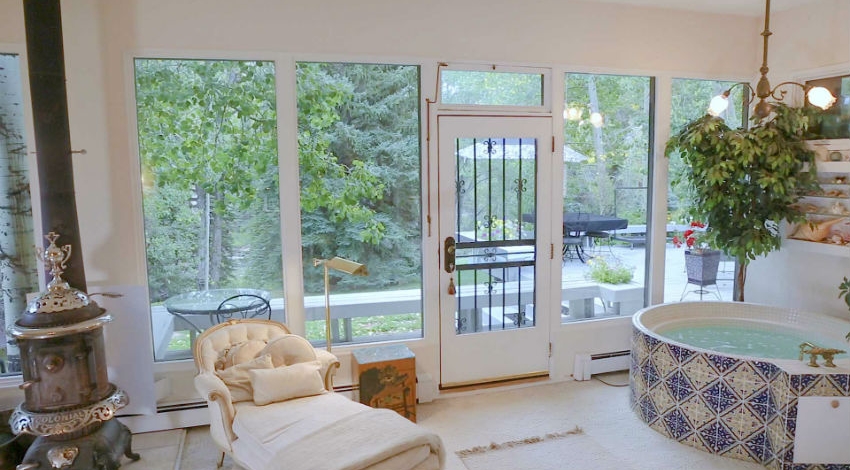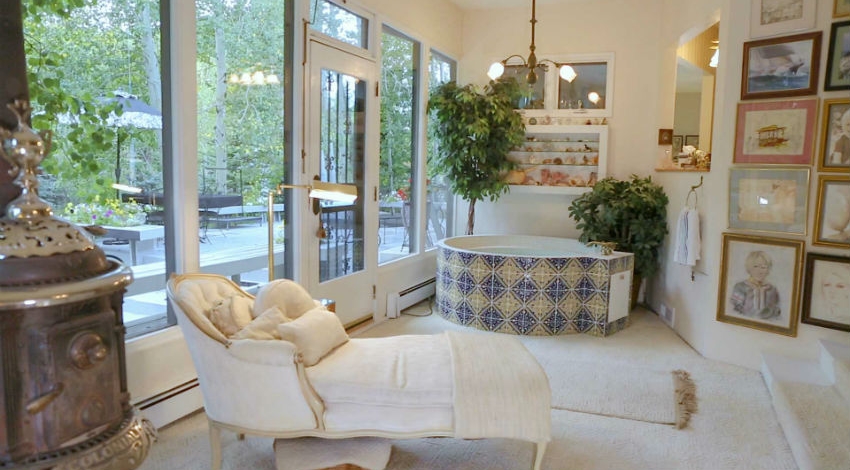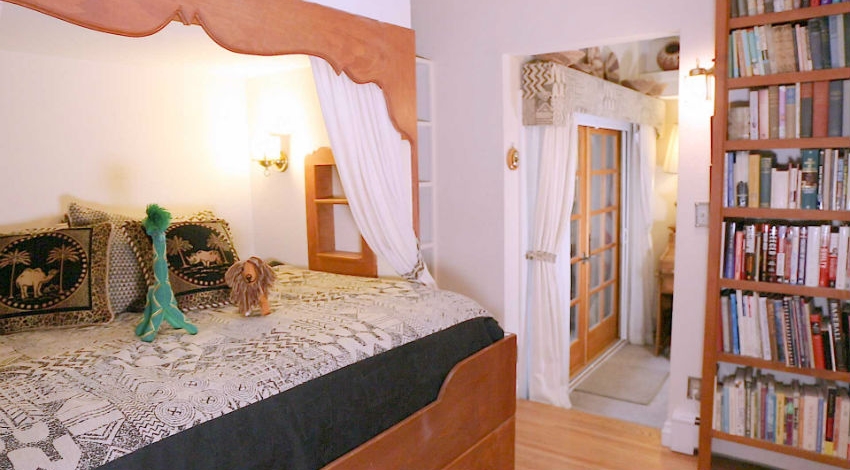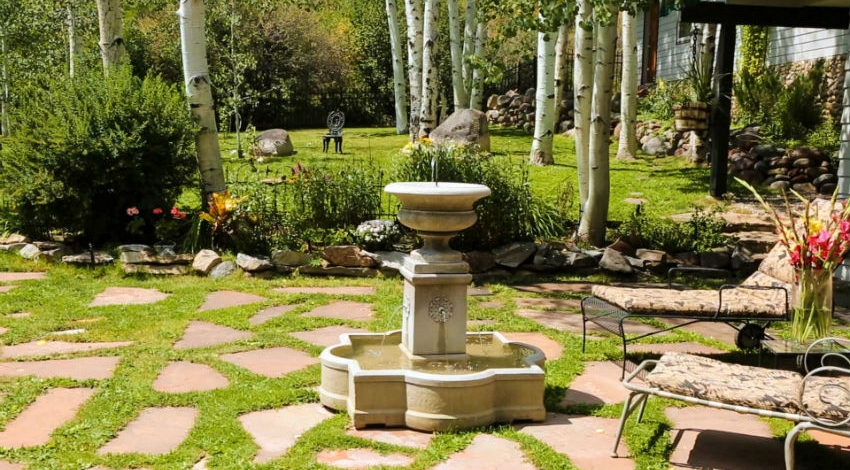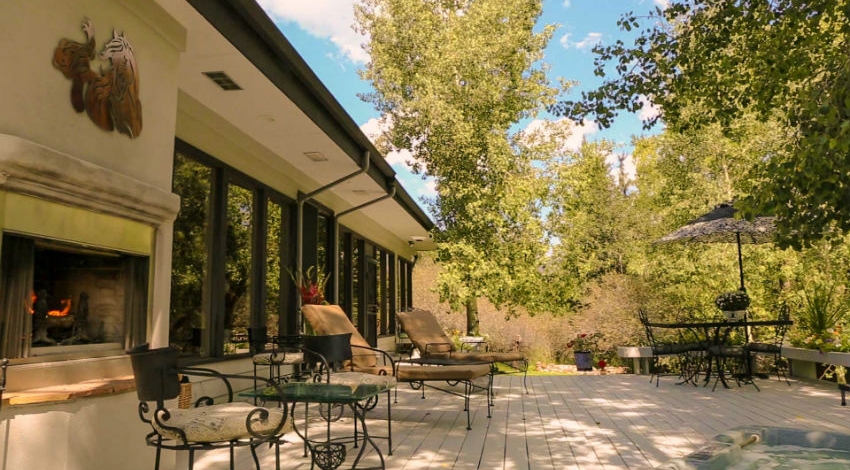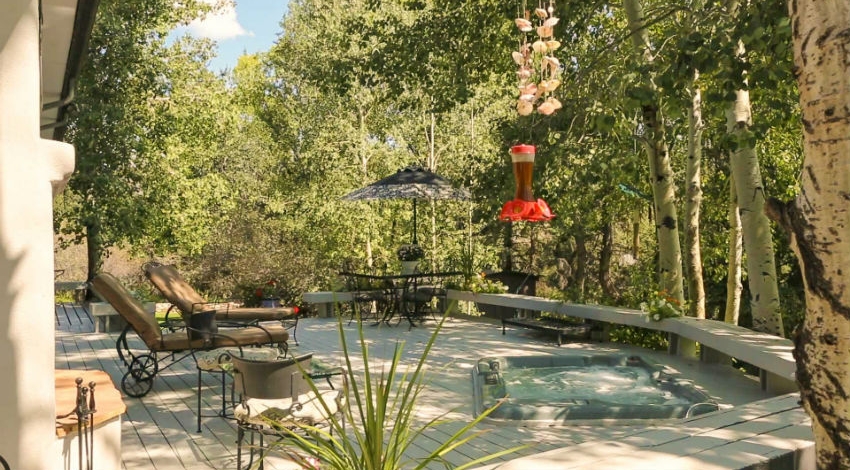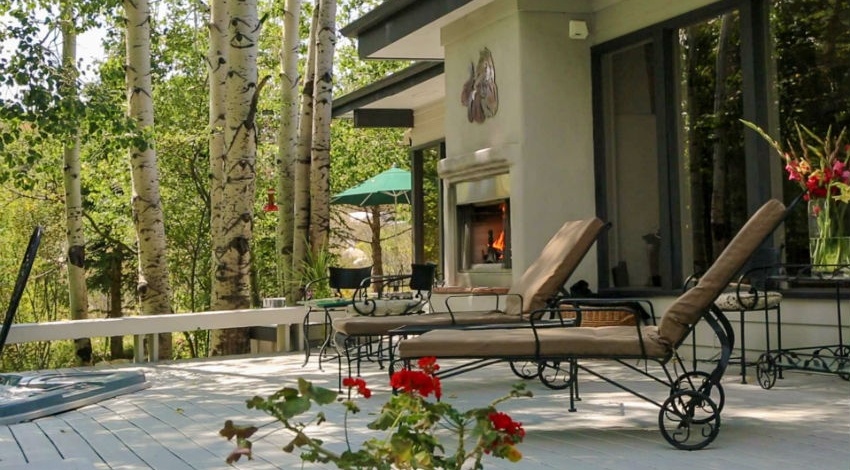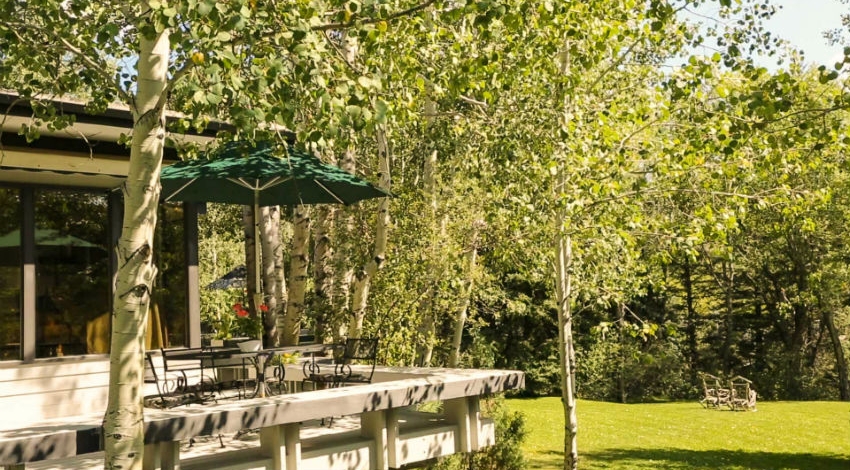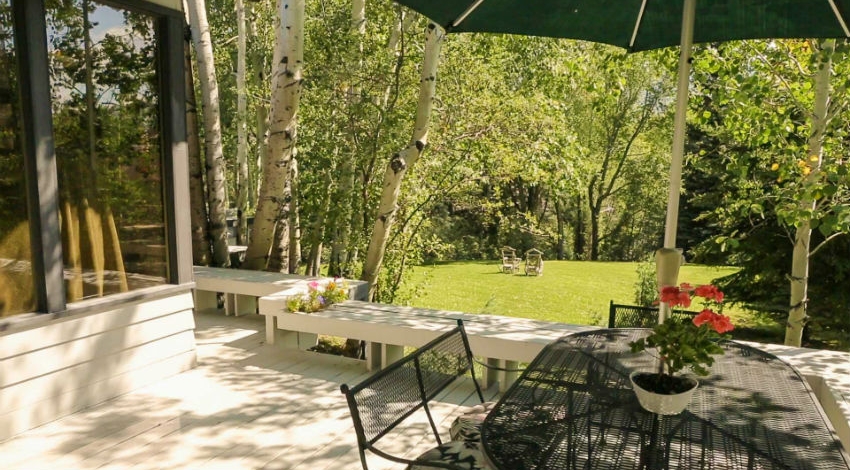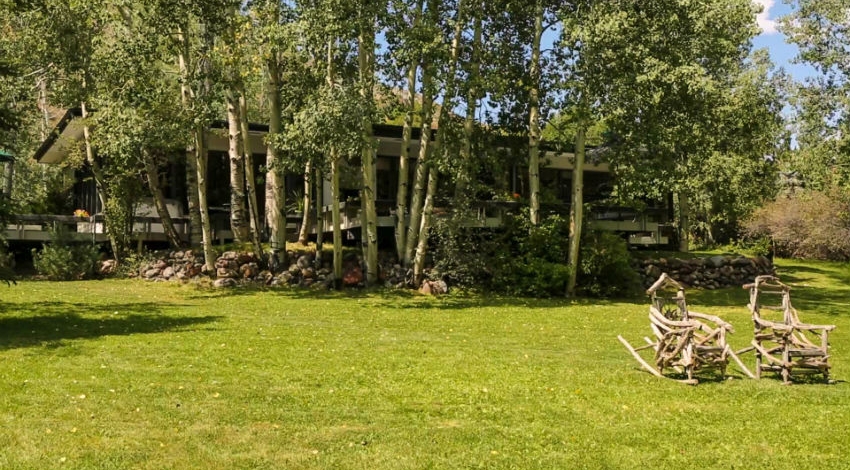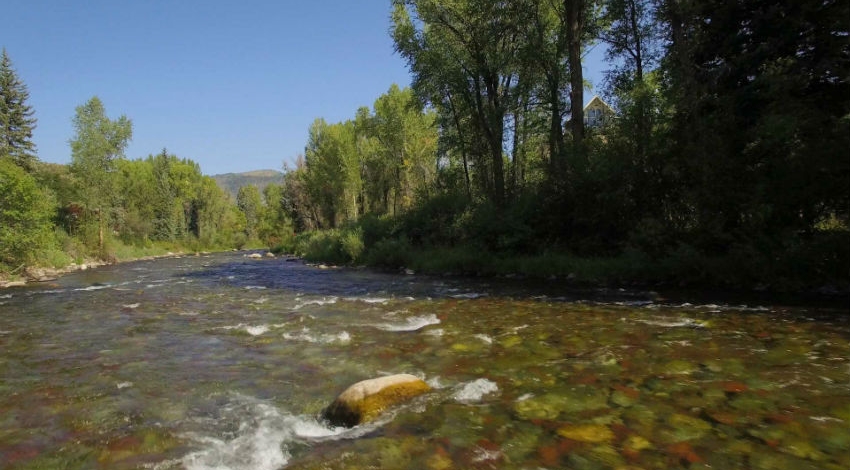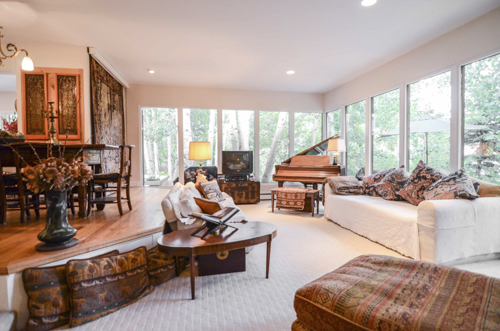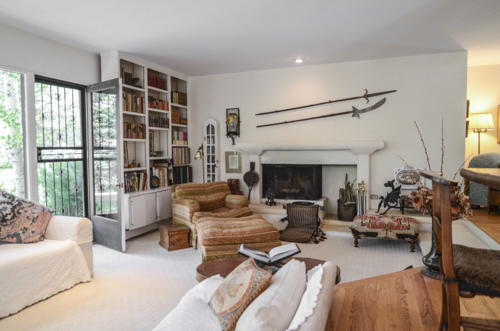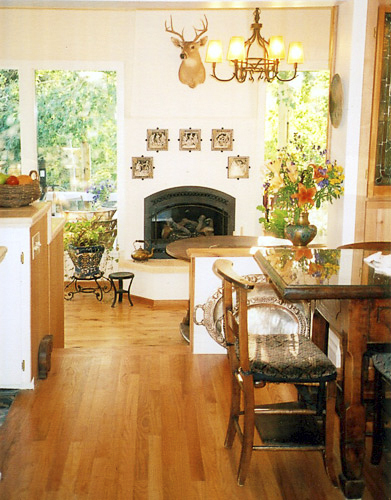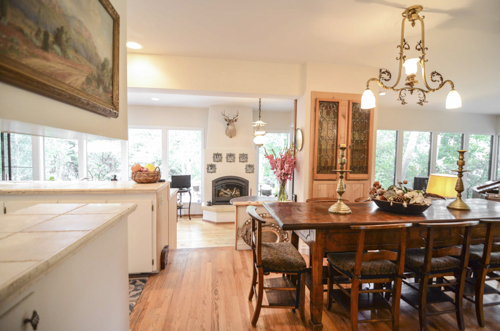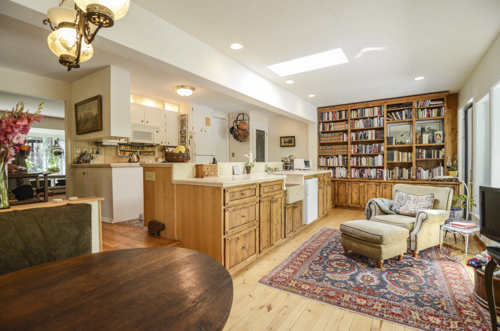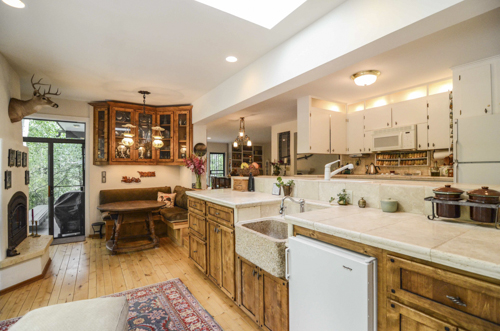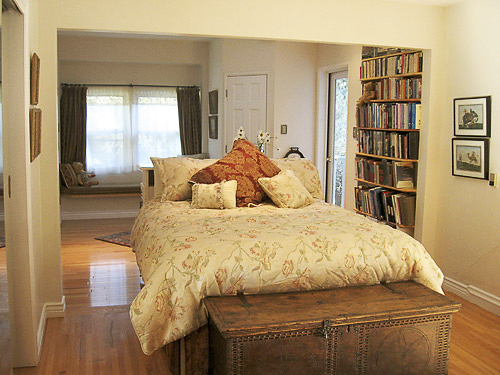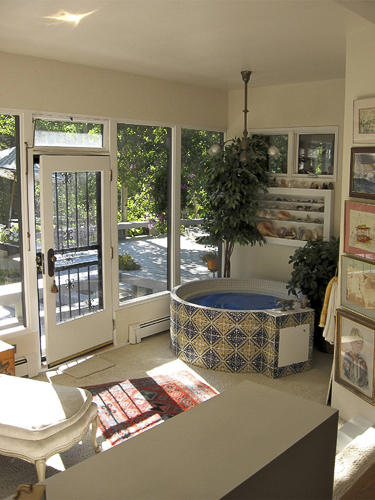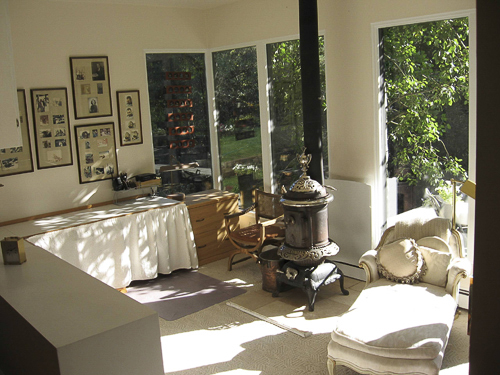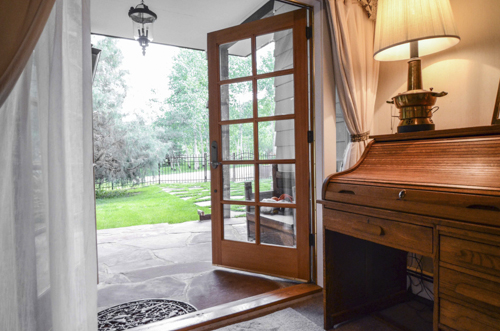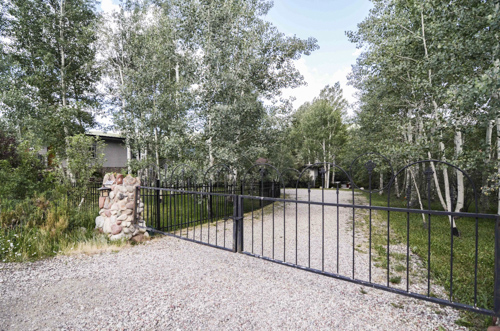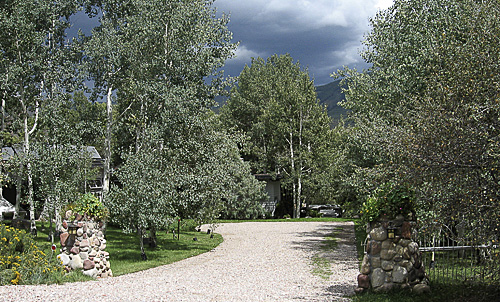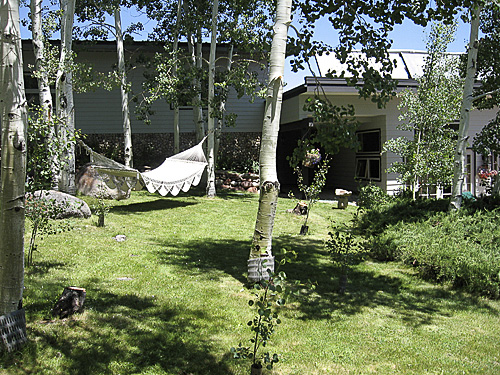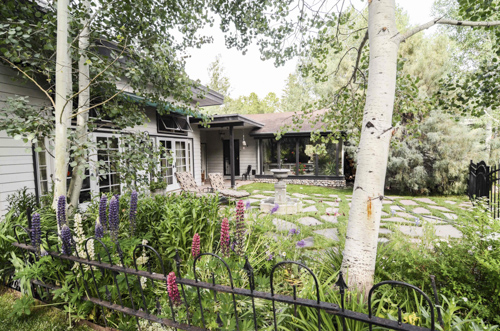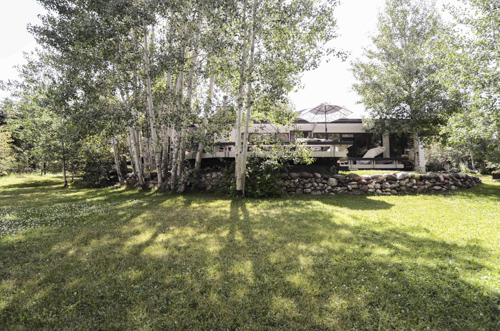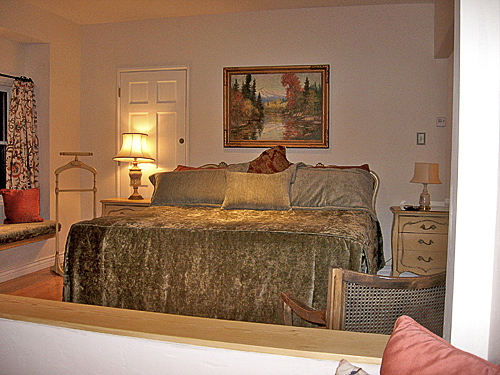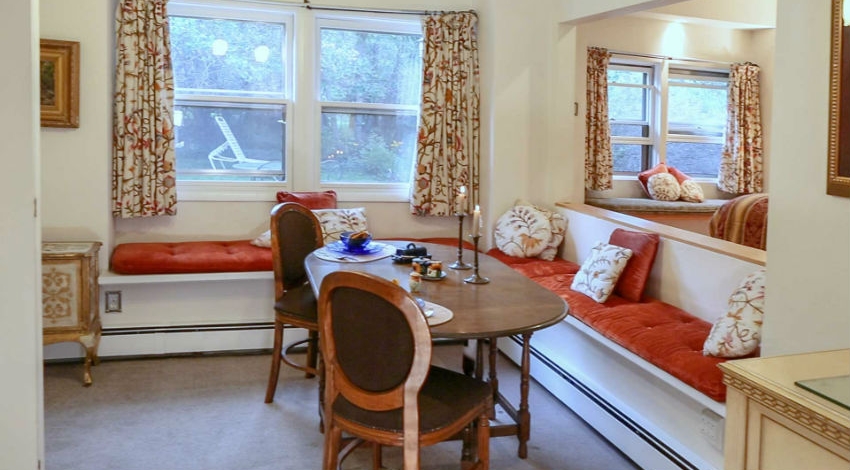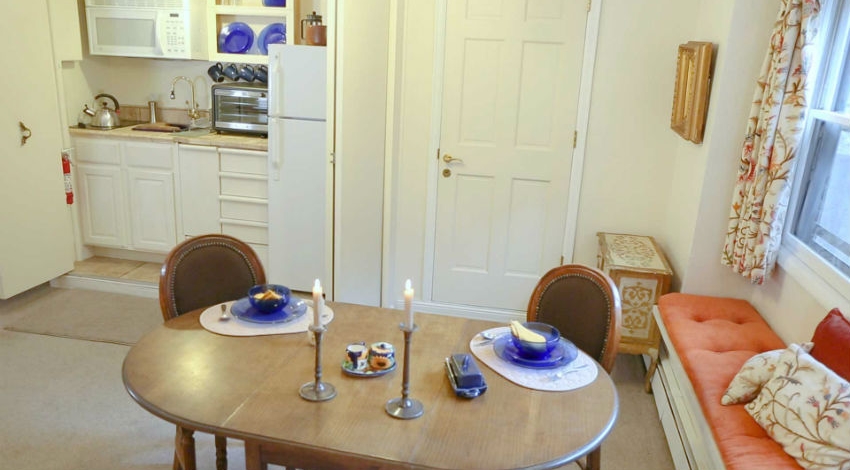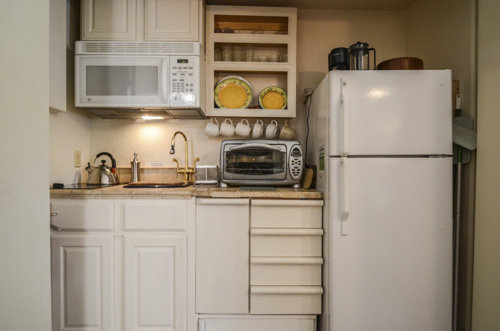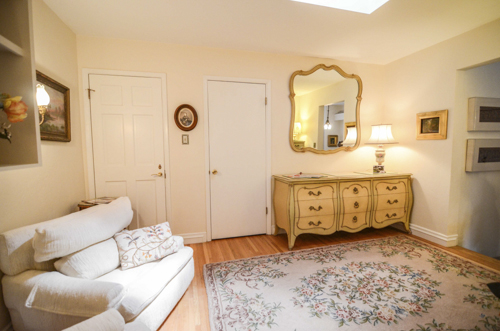 Main House
Casa Camilla, located about 6 minutes from Aspen and 10 minutes from Snowmass Village, is situated on two acres along the banks of the Roaring Fork River on a narrow lane of 12 private homes. There is a bus stop within walking distance.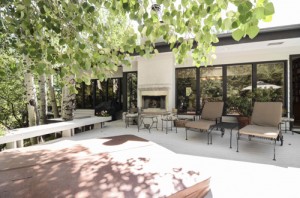 This sunny, romantic home features a greenhouse as an entrance, a library, a large living room with a grand piano at one end and a massive fireplace at the other. There are ceiling to floor windows and hardwood flooring throughout with some wall-to-wall Berber carpeting. There is an open, formal dining room with a 17th-century trestle table and prie-dieux chairs with heavy velvet cushions.
The 570 sq. foot kitchen is on two levels: the upper portion with Italian-tiled floors, a pantry and white cabinetry is completely open to the lower level with views of the Roaring Fork River and Aspen Mountain.
There is a cushioned eating area around an old Dutch bread-making table that faces a fireplace. Stone and marble counters extend 13 feet to include a granite farm house sink and a refrigerator for wine and beer.
The far end of this 27-foot room has a massive bookcase with custom designed cupboards. The cushioned benches and lounge chair invite one to while away time watching the river, the many birds at the feeder and the ever changing seasons.
Two thousand square feet of deck wrap around the outside of the kitchen and living room. A Jacuzzi for four, an outdoor fireplace and many wrought iron tables, umbrella and lounge chairs decorate the deck along with a dozen built in flower boxes – these are part of a built-in seating area that doubles as a railing.
If one enjoys art, music, books and the good things from life, this home is filled with "good things:" oil paintings, a 10 foot tapestry, halberds, delicate chandeliers from Europe, Persian rugs, an eclectic collection of furniture and artifacts from around the world and books, books, and more books. Yes. There are lots of over-stuffed chairs and couches to curl up in and read.
There are two bedroom suites with the possibility of adding the adjacent private French Apartment, depending on availability and price. All the bedroom suites have satellite TV's and high speed internet.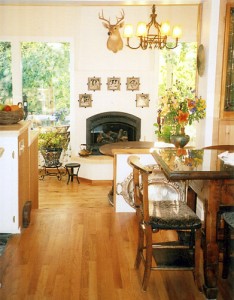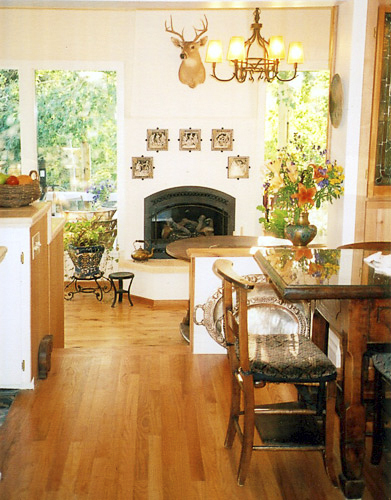 The smallest bedroom suite, African in decor and built on two levels, has hardwood floors, a built-in queen bed with a trundle – like an old Dutch kaas or a ship's bed with curtains. There is a skylight, and a small carpeted office or living room area with a private French door entrance, an antique roll top desk, a pot belly stove and lounge chair. The bathroom, with tub and shower, is just across a hall.
The 875 sq. foot master bedroom, like the rest of the house, is on different levels: the upper area has a king bed, hardwood floors, an opening skylight for star-gazing at night, a large window seat with cushions, more bookcases and a glass door to a small balcony. An 1890's armoire from an historic Aspen home – The Floradora – contains the television.
The private bathroom – with steam shower – has a small vanity area that looks out onto the River. The lower area has ceiling to floor windows and white Berber carpeting. There is a two person, round hot tub with colorful tiling from Mexico and a glass door leading to a private outside deck over-looking the River. Relax in the bath to a crackling fire in the elaborate antique potbelly stove. There is also an office area with views of the River and gardens at the far end of the room, yet out of sight of the main bedroom.
In the summer, with all of the doors open and the breezes blowing, the Roaring Fork River will lull you to sleep. In the winter, all outside is a wonderland of snow, trees and rising mists from the River. On moonlit nights you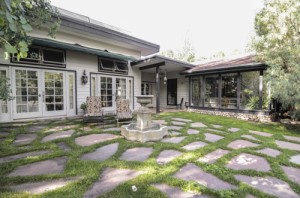 may hear coyotes or an occasional owl.
The French Apartment, attached to the Main House, may be added as an optional third bedroom suite. (Allow six months advanced notice, pending availability.) This is a self-contained apartment with a bath, mini-kitchen and its own private outside entrance. This apartment may be opened to the main part of the house or completely closed and locked off as desired.
Casa Camilla boasts a tiny Greek island called Gregorka. Doesn't everyone long for a Greek island? With Divine intervention, we created one. Excellent fishing, the hunting for an occasional mushroom, lounging in a hammock or grilling on the beach is "de rigueur."
---
MAIN HOUSE:
2 or 3 Bedroom Suites Available (Price Dependent)
Bedrooms available: Master, Small African theme Suite, French Suite
PRICE:
Generally $850 / night, 2 week minimum
$30,000 / month for a 3 bedroom suite
$25,000 / month for a 2 bedroom suite
Occasional off season discount available
Call, Text, or Email for Pricing and Reservations:
Alexandra Anwyl-Davies: 970-306-8864
Alexandra@candelierart.com
If no answer, call Camilla, the owner: 970-744-9053
Please review our Policies (click here)
Details, availability and pricing shown on website subject to change.
Monthly rent includes all utilities, TV, High speed internet
Maid service available for an additional fee
For reservations and information, please call 970-306-8864
---
Guest Comments:
Beautiful, Meticulously Kept Property Hidden in the Trees – 5/5 Stars
Guest: Denise Reich (Denver)
I have stayed at Casa Camilla on several occasions and most recently this summer. I have known this beautiful, meticulously kept property for a number of years. As it is special, I unhesitatingly recommend it to my clients when my own properties are filled.
I am a life-long real estate agent and a rental property owner in Denver and Aspen. I look at rentals and homes through the eyes of a professional agent. Besides the great beauty inside and out and the attention to detail, what stands out is the peace and quiet, the beautiful, eclectic decor from around the world, the spotless presentation, always accompanied by a basket filled with cheese, crackers, fruit and wine as a welcome – indicative of the warmth of Camilla toward her guests.
This is not a "rental property" but rather a place with "soul." This home and guest house is situated on two acres, secluded, hidden in the trees and away from the noise of Aspen's traffic, but in close proximity – perhaps 7 minutes away.
A natural setting, in contrast to a lot of lawn and flower gardens, is the fishing island on the Roaring Fork River with lawn chairs, a beach accessed by steps. This is a great place for a family barbeque or reverie with a book.
---
Casa Camilla: An affordable, Spacious, and Beautifully Decorated House – 5/5 Stars
Guest: Kay(Key Largo, Florida)
For our family, Casa Camilla was an extraordinary experience for our annual ski trip this year. We ski every year for 3 weeks or more in Colorado with another couple. We were tired of being cramped in a 2 bedroom condo and we have never found a large space in downtown Aspen that was affordable. The main house of Casa Camilla is very spacious with a large, well-stocked kitchen, many rooms with nooks and crannies and over-stuffed comfy chairs and sofas, a grand piano, floor to ceiling windows that provide great views, beautiful art and rare antiques, and a lovely "landlady" who is available to meet your needs. The setting is lovely with a river running in the backyard and the entrance to Snowmass is about a mile away. We prefer to have our own rental car but the bus stop on the main highway is only 2 to 3 blocks from the house if needed. I highly recommend Casa Camilla if you are interested in space, charm, and unusual beauty for your ski vacation.
Recommended for: Age 55+, adventure seekers, girls getaway, sightseeing, families with teenagers, families with young children, romantic getaway.
---
Lovely property to enjoy aspen – 5/5 Stars
Guest: Kim(Monument)
We had a relaxing stay at this home which is charming and very lovely. The house is flanked by a fountain in front and a river in back. The river is a river it is not a trickling stream. There is plenty of nature to enjoy- peaceful. The owner is so happy to make your stay as wonderful as possible. It is equipped with everything you could possible need for your stay, including 2 TV's for the kiddos, a hammock etc. We enjoyed being a quick drive to town but coming back to a serene retreat.
Recommended for: Age 55+, adventure seekers, pet owners, girls getaway, sightseeing, families with young children, romantic getaway.
---
Lovely Get-A-Way to Paradise – 5/5 Stars
Guest: Rose(Houston)
We had the great pleasure of enjoying paradise on the river at this private Aspen home. Camilla was the epitome of graciousness and friendliness. We call her our friend now. Our dog was happy with the arrangement as well. He gained two friends, Dolce and James Brown, and wants to visit them again as soon as possible. He liked the beautiful, open grounds where he and his friends romped every day. We will return again and again to this lovely hide-a-way. It is close to everything and has every amenity you could desire. It is the Crème de la Crème in our book of stays in Aspen.
Recommended for: Age 55+, adventure seekers, pet owners, families with young children, romantic getaway.
---
CK/ JK – 5/5 Stars
Guest: CK/JK(Mississippi)
Casa Camilla is a magical place unlike any other place we have stayed. The tropical guest house is absolutely amazing. It is beautifully furnished, quiet, and peaceful. We would have stayed for an entire month if we could have. The tranquil atmosphere of this incredible place can only be matched by its wonderful owner, Camilla. Ms. Camilla is the quintessential hostess. She is a lovely, intelligent woman who has traveled the world and is willing to share her stories and treasures with anyone who is interested. Our whole family absolutely loved her, and we can't wait to visit again next year!