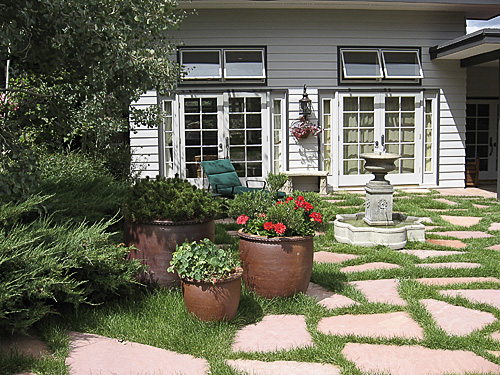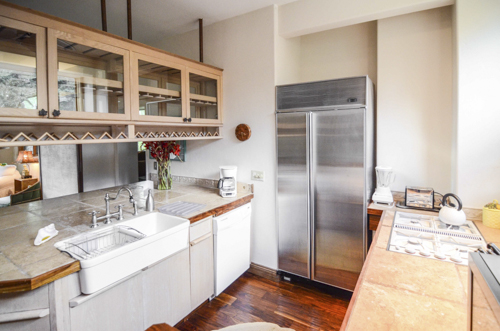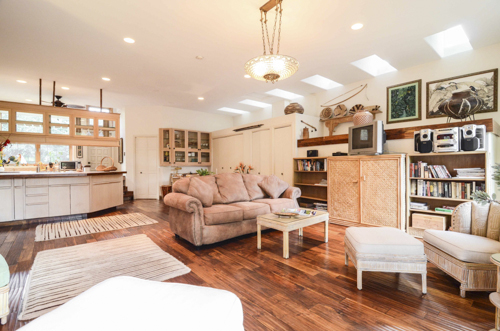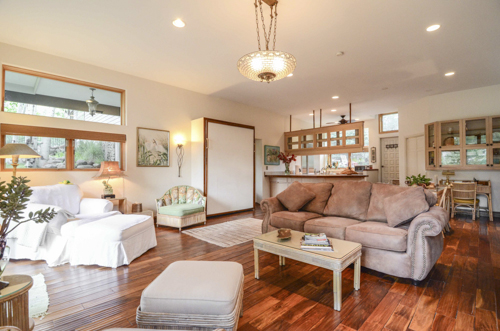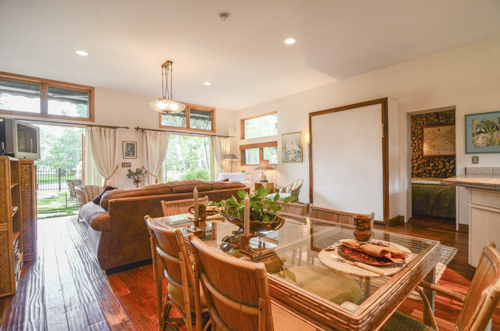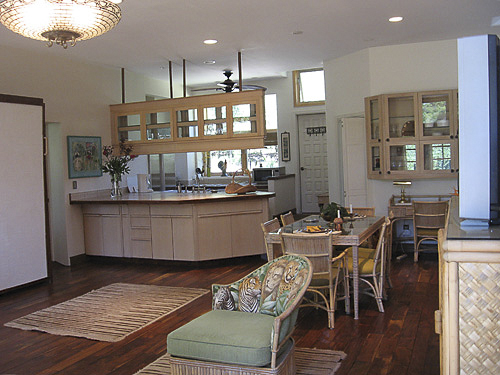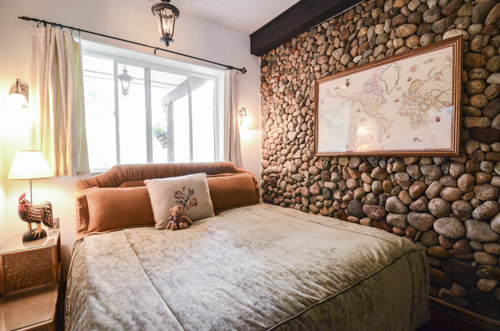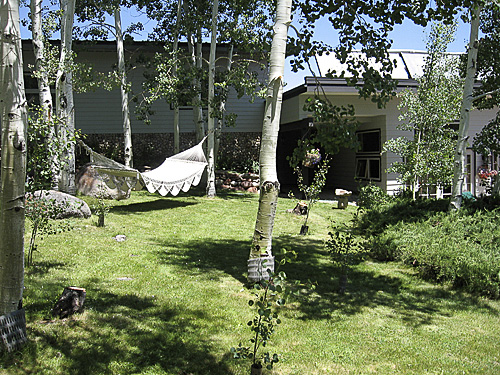 Tropical Guesthouse
A meandering flagstone and grass patio, accented with a bubbling fountain, flower gardens and lounge chairs leads one to four french doors – the entrance into an 1000 square foot room of hand-scraped hardwood teak flooring accented with scattered wool throw rugs.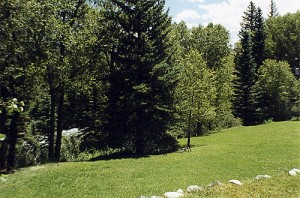 Light filters from all directions into this tropical setting of high ceilings, restored antique bamboo furniture and a lovely Tiffany chandelier. A plush leather couch, an oversized white linen comfy chair and stool, and a glass-topped dining table for 6 complete the furnishings for a small dinner gathering.
This large, open space is graced with a variety of art objects, hand painted pictures of tropical birds, an excellent kitchen with high-end appliances and custom designed glass cupboards.
There is a queen-sized Murphy bed, easily raised and lowered into the wall through a built-in hydraulic system and a large separate bedroom with a king sized bed, closet, chandeliers, TV armoire, ceiling-to-floor river rock wall, high ceilings, teak flooring and a large picture window – all tropical in decor.
There is a back door that opens out into more flower gardens and a path to a river island and an outdoor Jacuzzi. Eiderdown bedding, linens and all kitchen accessories are provided making this very special "turn-key" place a "home." The heated floors and double-insulation keep the interior cool in the summer and evenly warm in the winter months.
---
TROPICAL GUESTHOUSE:

1 queen and 1 king-sized bed
PRICE:
Monthly Rental: $300. per night
Call for yearly Rentals
Occasional off season discount available for monthly rental
Call, Text, or Email for Pricing and Reservations:
Alexandra Anwyl-Davies: 970-306-8864
Alexandra@candelierart.com
If no answer, call Camilla, the owner: 970-744-9053
Please review our Policies (click here)
Details, availability and pricing shown on website subject to change.
Monthly rent includes all utilities, TV and high speed internet
Maid service available for an additional fee
For reservations and information, please call 970-306-8864
---
Guest Comments:
Magical – 5/5 Stars
Guest: Susan/Gary(Indianapolis)
Well, we came back for the second winter in a row, and spent another wonderful month in the Guest House. We've been skiing in Aspen for nearly 30 years and have stayed in lots of places around the area; this is our favorite. We love the serenity and the peacefulness of this riverside setting. It looks and feels remote, but is amazingly close to everything, including a bus stop. The full moon through the skylight is such a treat! The space is beautifully decorated, with little touches of home (nice china and flatware, quality towels and linens, an array of kitchen spices, antiques, and books.
It's spacious, cheerful, airy, clean, quiet and just plain satisfactory. Our dog is made to feel very welcome (as are we), and he settles in just like it's home. I consider it a "find" beyond expectation. And getting to know Camilla, our landlord, has been a benefit we certainly did not expect! I almost hesitate to write a glowing review because we want this place all to ourselves. We'll just have to plan farther ahead for next year, I guess. We haven't seen it in the summer, but it must be extraordinary to watch the river form the large, shady yard.
---
Cozy place, great location – 5/5 Stars
Guest: D and C(Chicago, IL)
We spent the week before President's Day and had a most enjoyable time. The place is airy and bright. Camilla, the host, was very helpful. She was discreet and basically left us to ourselves….knowing that we could call on her for anything we needed. Her two dogs were super cute. Our two young teenage children shared the king-bed room and my wife and I used the Queen Murphy bed in the living area. We were up and out most most mornings and did not return until after our long days snowboarding. Kitchen had most of the basic amenities but we really only used it for breakfasts and a few easy dinners. Very convenient to Buttermilk and Snowmass. Downtown Aspen was only 12-15 minutes away.
Recommended for: Families with teenagers
---
Exactly What We Wanted – 5/5 Stars
Guest: Rose(Houston)
Words cannot adequately express the wonderfulness of the Tropical Guest House. It is close to Aspen, it is first class, spacious, bright, cozy, warm, inviting, private, a place you feel at home, well…..everything that makes it difficult to leave such a place. Even "Riley," our golden retriever found it homey. He became very good friends with "Dolce" and "James Brown" during the week-long stay and spent much time with them enjoying the serene, gated outside grounds. This place will be our place everytime we come to Aspen! It is great for families, couples, old people, young people. The hospitality of the owner is wonderful. She is one-in-a-million and ensures your stay will be one to be remembered!
Recommended for: Age 55+, pet owners, adventure seekers, girls getaway, tourists without a car, sightseeing, families with young children, people with disabilities, romantic getaway.
---
Guest: Julie Matt and Smuckers
My wife and I have been visiting the Aspen Snowmass Area for the past 5 years. Each time we visit, we have ended up staying at different locations. This past February and March we were very fortunate to stay at "Casa Camilla". I first need to comment on how gracious and hospitable Camilla is. She is a very warm, positive and outgoing woman who welcomes you into her property with open arms. The first night we stayed at the property my wife, our 60 pound Labrador poodle mix (Smuckers), Camilla and her two dogs and I all had a homemade cooked dinner at her main house.
Casa Camilla is a spectacular home, cozy, warm with great views of the mountains and river. Inside the home is beautiful, especially the floors and the lighting was great. I like to cook, and the kitchen was great for that. For my wife, dog and I it was perfect. The dog was able to play in the fenced in yard with Camilla's dogs daily, I was 10 minutes from the base of Snowmass, and my wife was able to get into Aspen and Basalt regularly. Casa Camilla is a must stay for your vacation. I can't say enough about Camilla, we all became friends instantly. The house is great, and the location couldn't be better. I am an extremely picky person when it comes to "everything" and I would highly recommend staying here. Julie, Smuckers, and Matt from Florida.
---
Tropical Guest House – 5/5 Stars
Guest: Susan/Gary(Indianapolis)
My husband and I and our black lab spent a fantastic month in the Guest House. Having stayed many times "in town," it was wonderful to enjoy the absolute peace and quiet here. Yet you're really close to everything. Also a great value. We were originally interested because the property is pet friendly, but it turned out to be so much more. The Guest House is beautifully designed with big windows that take advantage of the sun and views. Totally comfortable for the 3 of us, beautifully furnished with many unique items, a well appointed kitchen and spotlessly clean. We had only the online photographs to go by, and they are perfectly accurate. Camilla is a gracious landlord – available to attend to anything that needs it, or talk politics if you want. Would we return? A great big YES!
Recommended for: Age 55+, pet owners, adventure seekers, girls getaway, tourists without a car, sightseeing, families with teenagers, families with young children, romantic getaway.
---
NEW MEXICO VISITOR 5/5 Stars
From the moment we arrived at Casa-Camilla, the "welcome mat" was out. The Tropical Guesthouse was our home away from home for a month. The house is light, airy, with high ceilings and is tastefully decorated. The kitchen is a nice size and had all of the kitchen amenities we needed. The king sized bed was VERY comfortable and the clean mountain air coming in the open windows was the best. The grounds surrounding Camilla's properties are nothing less than fabulous. There are flowers and aspen trees and lush greenery everywhere you look. The Roaring Fork River runs along the back of her property. The front fountain/patio area is large and charming and serene–perfect for an evening cocktail while reading the Aspen Daily or working a crossword puzzle. We were just minutes away from Aspen, Carbondale, El Jebel, several biking/walking/jogging paths, shopping, and restaurants. Last and certainly NOT least is Camilla.
She is a real pleasure! She knows how to give you your privacy, but is always available to take care of your needs, answer questions, or just plain help you. Rick is a hard-working man who can fix anything. This review would not be complete without mentioning Camilla's 2 four-legged companions–James Brown and Dulce. Two sweeter dogs do NOT exist. They stole our hearts. The Tropical Guesthouse provided us a truly unforgettable vacation and memories to last a lifetime. Sharing Camilla's piece of paradise with us was incredible.
Recommended for: Romantic getaway, age 55+, pet owners, adventure seekers.