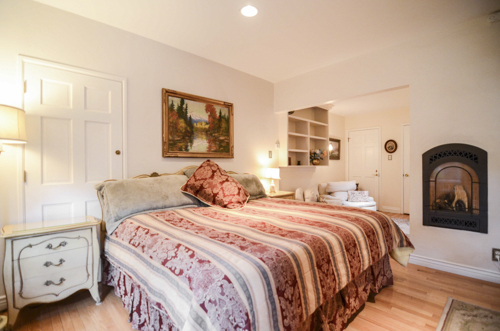 French Apartment
French Apartment consists of three rooms. The bedroom has a beautiful, French king-sized bed with a velvet fitted spread and matching pillows. There is a large, cushioned window seat area, accented with Indian crewel drapes and a small gas fireplace. The hardwood floors are heated.
The second room opens to a small living room with lounge chairs, an antique rug, a skylight and lamps. All of the furniture is French. Stepping down to a third room is a hide-away efficiency kitchen with a refrigerator, convection oven, two burner glass-top stoves, and a microwave oven. The floors are carpeted on this lower level.
The eating area is in a corner window seat with velvet cushions and chairs. This faces a large window to the gardens, a lawn and a variety of trees. The French apartment is an open and light-filled area.
Monthly rent includes all utilities, satellite TV, high-speed internet. Maid service upon request.
---
FRENCH APARTMENT
$2,100. – $2,300. per month
Number of people: One couple
MUST CALL or TEXT:
Alexandra Anwyl-Davies 970-306-8864
Alexandra@candelierart.com
970-963-8056
Please review our Policies (click here)
Details, availability and pricing shown on website subject to change.
Available Dates